At Vernon Dodge Jeep our #1 goal is providing you with a buying experience that puts a smile on your face!
Friendly people who enjoy what they do.
The reason so many people choose to make Vernon Dodge their dealership is simple - it's our people. We never take ourselves too seriously and always make sure that the process from start to finish is fun and pressure free. You have dozens of options as to where you can get your new or pre-owned vehicle, why not choose a dealership that puts you and your goals first?
We listen.
While other dealerships put their needs first, our only need is to make sure that you are happy. From product selection, price presentation, credit approval through delivery our people's only goal is your complete satisfaction. You speak, we listen and deliver the most satisfying and enjoyable experience in the Okanagan. That's why more people choose Vernon Dodge Jeep for their vehicle needs than any other dealer!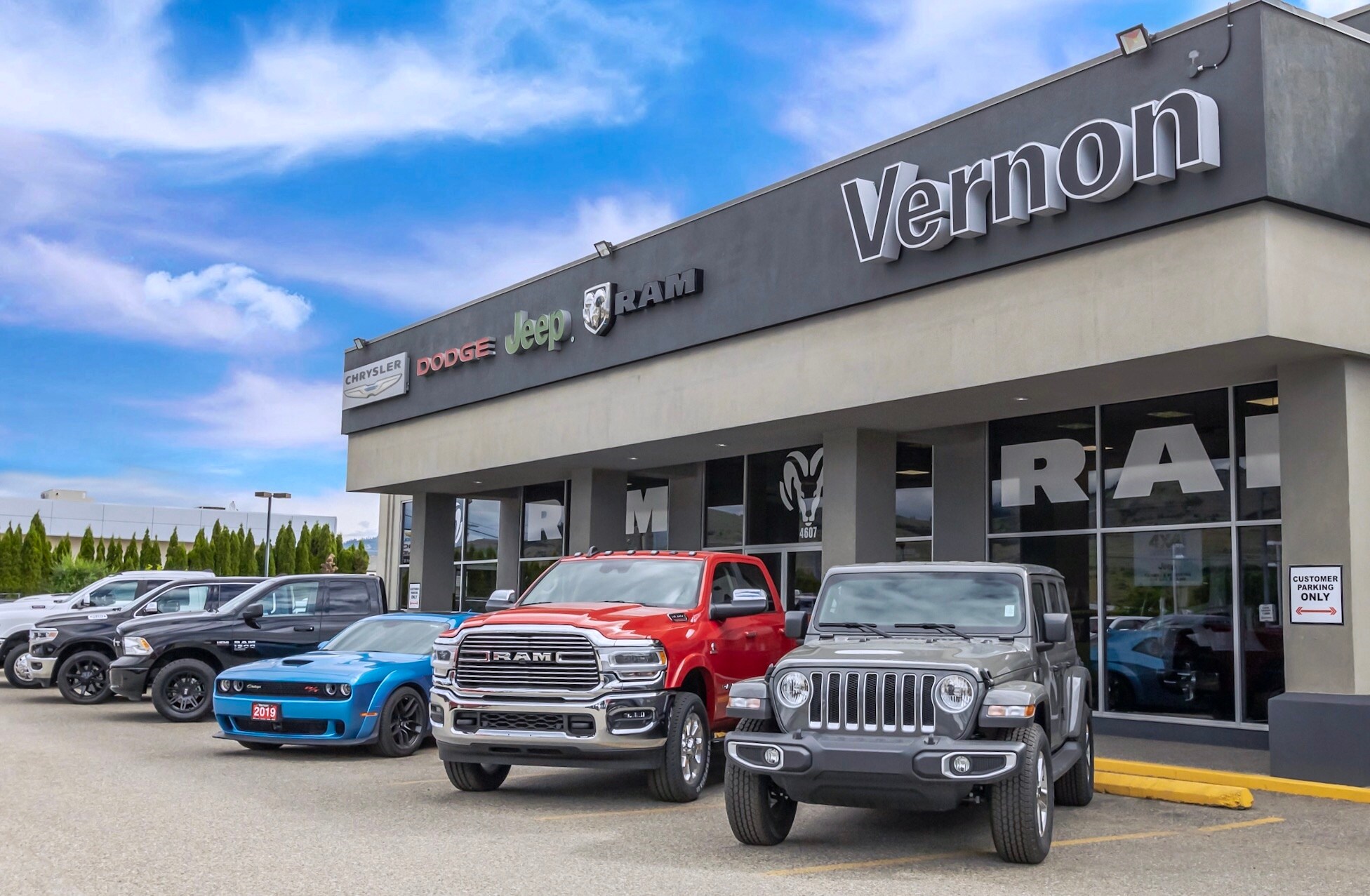 OUR HISTORY
The company opened in 1941 under the name of Sigalet Bros.
Brian Johnston, pizza enthusiast, wanted to buy his own pie joint.
Dan Loewen wanted to take the financial world by storm.
So, naturally, the pair would come together in the auto industry and help make Vernon Chrysler Dodge Jeep Ram one of the North Okanagan's model companies.
Johnston and Loewen are winding down a 2019 year that sees the dealership celebrating its 78th anniversary - opening in 1941 as Sigalet Bros. - Johnston's 28th year of ownership, Loewen's 21st year working for Johnston and the dealership's 23rd year in its present 27th Street location.
From the dealership's Sigalet Bros. roots through Johnston's quarter-century of ownership, the basics of the automobile business have been unchanged.
"It's doing the best you can for your customers," said Johnston, 64, who put his words into action when he paused the interview to go and assist a customer having problems parking a vehicle in a crowded lot.
"They put trust in you. We talk a lot about this. They put their hard-earned money with us as opposed to someone else and we believe that comes with a responsibility."
Originally from east-end Glasgow, Johnston came with his family to Canada in 1966, settling in Hamilton.
Before he entered the car business - which started when he bought and leased vehicles to a taxi company in Calgary - he sold newspapers and newspaper subscriptions and, satisfying his passion for pizza, swept floors at a pizza joint "for two crazy Italian guys, Bruno and Mario," the start of an unfulfilled dream to own a pizza place.
On a couple of houseboat trips to the region, Johnston figured if he could make a living, the Okanagan would be a nice place to live.
In 1991, he bought Sigalet Bros. from Ed Wunderli which, at the time, had 23 employees. It's grown to 50 employees today.
Sigalet Bros. was in its original location, on 32nd Street where BMO is today, but that building wouldn't be adequate for Vernon Chrysler Dodge Jeep Ram's future growth.
Johnston began scouting locations to move his operation. He had a list of "three or four" perfect locations and when one of them - the Wometco Coca Cola Plant - came on the market, Johnston pounced.
He bought the plant on 27th Street near 48th Avenue in 1994 and moved the dealership there, officially opening 23 years ago in 1996.
"It's been great. A wonderful adventure and the correct move over the years, in hindsight," said Johnston, who credits his wife, Cobi, and three kids, Cassidy, Dylan and Darby, for their eternal support.
Johnston - president of the Johnston Auto Group which includes Vernon Kia, two dealerships in Kelowna and one in Kamloops - is also quick to credit the people he has working for him.
Some, like the newly retired Mike Rawsthorne, and Mike Dimmick, have been with Vernon Chrysler Dodge Jeep Ram for more than 45 years. Wendy Hellevang and Les Danby have been there for a quarter of a century.
"As a company, we've always had a fantastic core group of people at the store from day one," said Johnston.
"They are committed, hard workers. We want a good culture here, we want leadership, getting along. Hard work is an important aspect of taking care of clients.
"That's what pays the mortgages and helps raise families."
Among that core group is general manager Loewen, who ignored his mom's vision of her son being a lawyer to pursue life in high finance by taking a job selling chattel mortgages for Bank of America in Vancouver.
When that ended with a severance, Loewen wanted to take some time off but his dad suggested he enroll in a course in financing automobiles.
That course, which ended on a Friday, led to Loewen becoming an employee at Kelowna Ford Lincoln the following Monday.
After an ownership change, Loewen returned to his native Salmon Arm, working for a dealership there when he heard there was a vacancy at Vernon Chrysler Dodge Jeep Ram. He walked into Johnston's office, introduced himself and, 21 years later, Loewen remains with the company as general manager in Vernon, crediting Johnston's mentorship.
"I came to Vernon with some big dreams, big goals, a burning passion to succeed," said Loewen, 46, a father of three kids - Connor, Emily and Evelyn.
"When I was younger, it was difficult at the time, a tough environment to prosper under as so much is expected of you. But it's refined me into a much better business person, more understanding of what it takes to make a business successful and grow and bring new employees in and help build their dreams. It's made me a better person."
Vernon Chrysler Dodge Jeep Ram has also given back to the community, which has been appreciated by such organizations as Kal Tire Christmas Fundraising Society, the Interior Provincial Exhibition and the North Okanagan Community Life Society, where the dealership was a 25-year sponsor of the NOCLS Charity Golf Classic.
"As a corporate citizen, they're second-to-none," said Garry Molitwenik of NOCLS.
"They're a true group that's conscious of social issues in the community."
Written by: Roger Knox of Vernon Morning Star
And that's Vernon Dodge! If you'd like to know what people are saying about us, please check out our Customer Reviews. You can always count on us on giving you the best experience when buying a car! We look forward to meeting you!